How to Play Yandere Simulator
Learn how to play Yandere Simulator in just a few steps with this tutorial!

Date: 2015-06-15 03:02:18
By: James Fleckenstein
Rocky Bytes Score

Great!
In order to follow this guide you will need to download Yandere Simulator. Please click the green button below.
This tutorial will briefly teach you the very basics on how to play Yandere Simulator. While the game is only 5% complete as of the writing of this article, there is still a decent amount you can do in Yandere Simulator. Before continuing, please make sure to have Yandere Simulator downloaded and ready to go by clicking on the download link above this guide.
When you have the game installed, start up the game. When you start up the game, you will be ported right into the front of the school in which you will start every game of Yandere Simulator, at least right now at this point of the game's completion: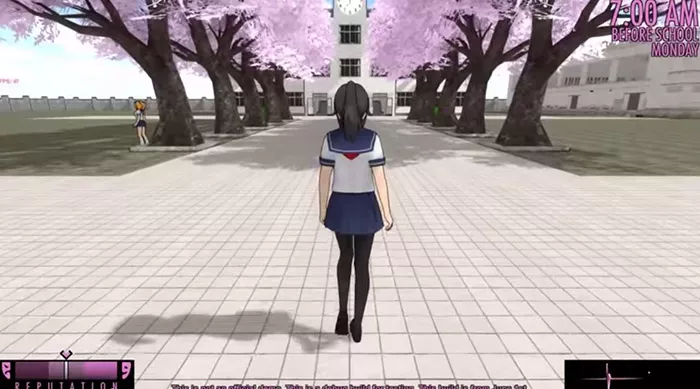 Yandere Simulator: Who is the rival?
From here, your mission in Yandere Simulator is to "eliminate" any competition you have when it comes to a boy that you like at your school (your senpai). There are many different ways you can do this: Kidnapping your rivals, killing them and then hiding the body, or poisoning them. When you do these things, it is important to note that you do not want to get caught. If you do, you will want to make sure to wipe up all of the blood, get clean clothes, and hide the body before the student that witnessed the murder gets a teacher / teachers over to the scene: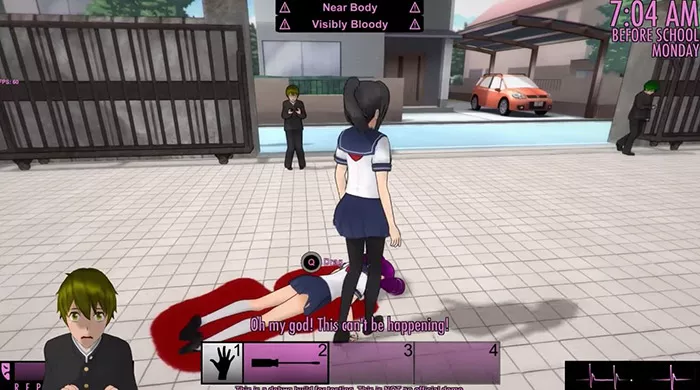 Yandere simulator study points
The game also has skills that you can excel in by going to class on time and simply by being in class. When you get to class and class starts, you are able to add study points to specific skills in the game that will enable you to do more tasks when it comes to the elimination of the girls in the school. Depending on what you will want to do, you will want to add study points to the skill that allows you to do those tasks or better complete them: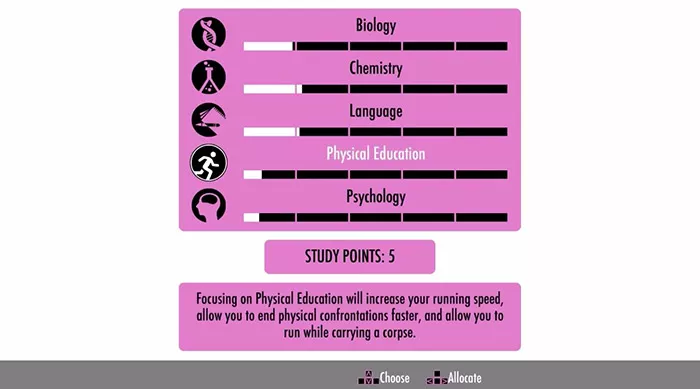 Gossip
You can also tell how certain students will react at the witness of a murder by taking a picture of them with your in-game phone. When you do this, your phone will retrieve information on the person you took a picture of, and you will be able to see what club they are in, their persona (how they will react to witness a murder), and who they have a crush on. If they do not have a crush on your senpai, then odds are they do not have to be eliminated, but you can still do it anyway if you would like: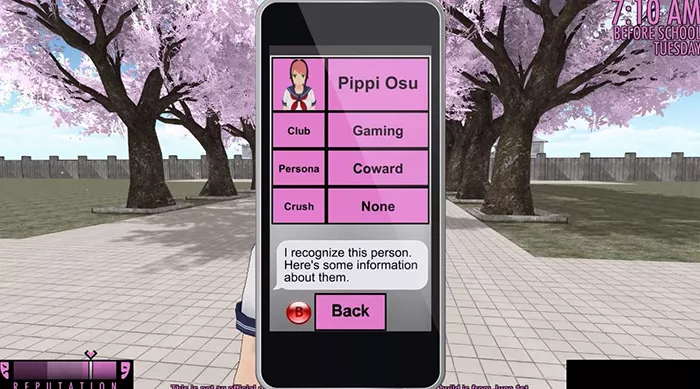 Yandere Simulator Video Tutorial and Gameplay
There are many more things you can do in Yandere Simulator, even at this point in its completion. For more on this, please check out this YouTube video for more information on the game:
¡
Yandere Simulator Controls: The most important!
Here you have the most important controls for Yandere Simulator:
- To laught: Tap Left + Ctrl (To laugh louder Press repeatedly)
- To attack other students: Press "F"
- To run: Hold Left + Shift
- Take your smartphone to snap a picture: Hold down the right mouse button and click the left mouse button to make a picture.
And there you have it. By reading this tutorial and watching our YouTube video on Yandere Simulator, you should know the basics of Yandere Simulator and should be able to jump right in and enjoy it! We hope it helped!

SEE ALSO:

A guide to help you install Yandere Simulator
In this installation we hope to show you how to install Yandere Simulator in just a few quick and easy steps. The first thing you will need to do is click the big green button in the top left of the page, once you ...